Landscape & Hardscape Design in Santa Clarita
Creating Enchanting Outdoor Spaces
Landscaping refers to tailoring the layout and look of a home's outdoor space to enhance its aesthetics and functionality. When designing a landscape, it is important to think about how all the elements will fit together. Let us work with you to build this harmonious ensemble. Our specialists at BSH Landscape do their utmost to customize cutting-edge landscaping features and fulfill our clients' wildest dreams.
For high-end landscape and hardscape design in Santa Clarita, call our team at (310) 340-7118 or speak to our experts online.
Ways to Expand Your Landscape
When people think about landscaping, they usually think about their plants. It is true that generic landscaping may involve planting trees, shrubs, flowers, or other vegetation. However, there is no need to stick to the norm of just bolstering the greenery. Instead, talk to our specialists about more creative options for making a property come to life.
Some other ways to increase the luxury or comfort of a home's exterior include:
Installing walkways and patios: Creating winding paths or charming patios can provide practical and aesthetic benefits, encouraging families to get outdoors more.
Adding a water feature: Water elements like fountains, ponds, and waterfalls can add visual interest and create a relaxing environment and a true oasis in California's dry heat.
Installing outdoor lighting: Strategic lighting, from fairy-like string lights to contemporary bollard lights, can highlight architectural features and create ambiance in the evenings.
Why Invest in Hardscapes?
Building a hardscape refers to installing inanimate elements into a landscaping design. These features are typically made of materials like concrete, stone, brick, and wood, just to name a few.
A few examples of the options homeowners have for making their landscape more interesting with hardscapes include:
Building retaining walls or raised beds: Whether with bricks or metal terraces, these can provide structure, create level areas, and define open space in a landscape.
Adding an outdoor fireplace or fire pit: Fire pits can provide warmth and make a cozy gathering spot for guests.
Installing a deck or pergola: These can create an intimate space outdoors, in addition to providing shade from the hot California sunshine.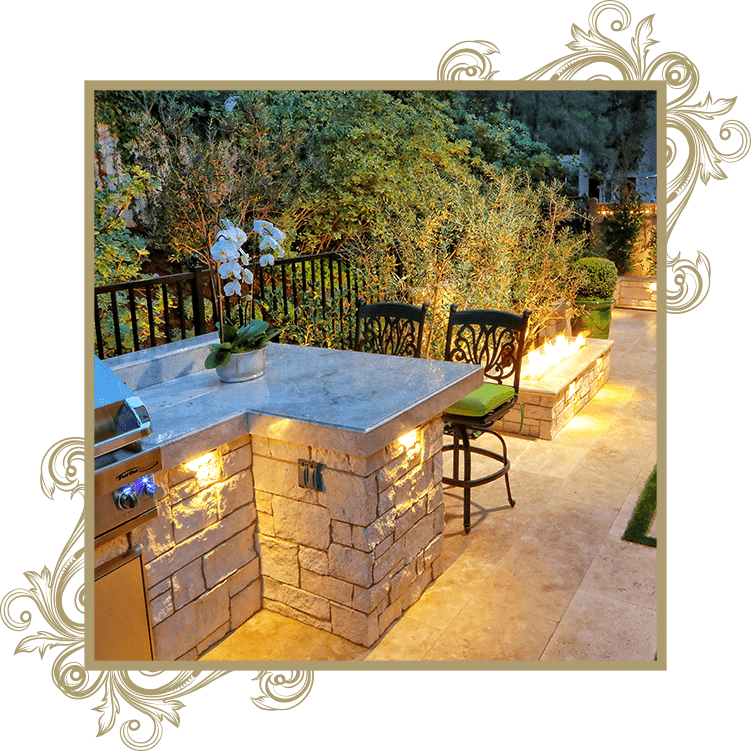 From Concept to Creation
Our Projects
How Long Does Designing a Landscape Project Take?
Naturally, every homeowner wants to enjoy their new backyard as quickly as possible. The duration of a landscape design project can vary widely depending on its complexity and scope.
It is important to consider your budget, maintenance requirements, and personal preferences, consulting with a knowledgeable technician first. Once our team at BSH Landscape has designed the blueprints down to the last detail, trust us to construct our plan both efficiently and carefully.
For landscape and hardscape design in Santa Clarita, give our experts a call at (310) 340-7118.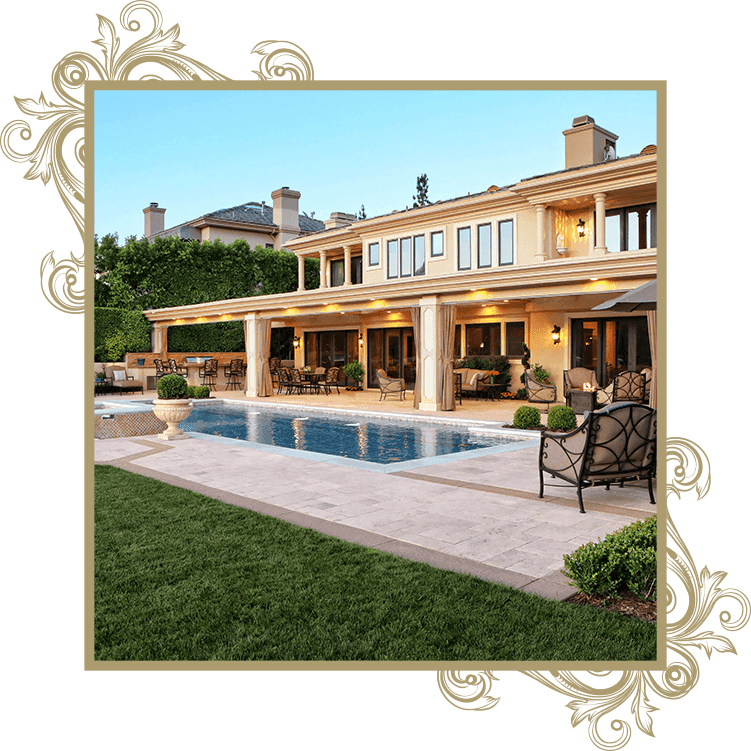 Trusted for a Reason
Why BSH Landscape & Hardscape Design?
Focused, Detail Oriented, and Skilled

Over 32 Years of Experience

Passionate About Design & Build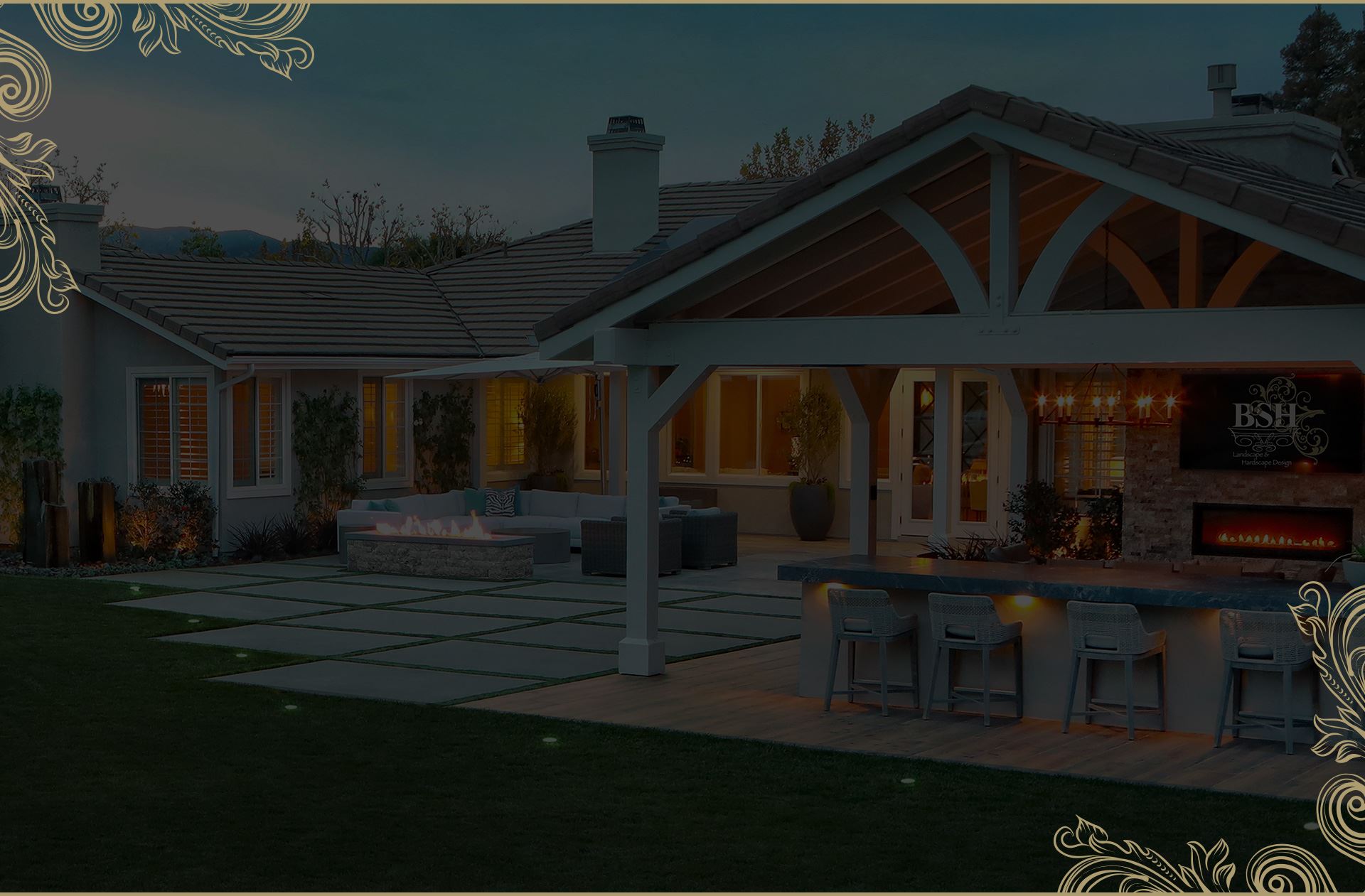 Our Design Process
We apply creativity to every step along the way. We take YOUR vision and ideas and combine them with our knowledge, expertise and artistry to create something truly unique.
Learn More
Areas We Serve
Calabasas

Beverly Hills

Hollywood

Newport Beach

Santa Clarita

Valencia

West Los Angeles

And More!