Beverly Hills

Hardscape Design Services
Luxury Hardscape Experts in Santa Clarita, Los Angeles, & Surrounding Areas
Landscaping means a lot more than having beautiful flowers, trees, and shrubbery. Using stone or concrete features can better complement the outdoor areas of your property for ultimate elegance and flow. BSH Landscape offers innovative Beverly Hills hardscape design services to help homeowners obtain the scene of their dreams.
Learn more about our customized options by speaking to our experts online or at (310) 340-7118.
Crucial Elements to Remember in Hardscape Design
During hardscape planning, homeowners must remember that they will not be looking at a single patio or a paved pathway. Instead, all walls and pavers, fountains, and plants must create a unified landscape.
Throughout the process of building a hardscape design, it is key to include opportunities for:
Creating balance: When there are so many options for hardscapes, homeowners can become overwhelmed. Rather than piling on too many walkways, paths, walls, and more, it is important to achieve the right amount of symmetry.
Adhering to a theme: Repeating patterns and motifs is a great way to bring everything together. Of course, there is a difference between being consistent and being monotonous. Our specialists can help homeowners find a beautiful, orderly look that is simultaneously visually exciting.
Adding interest and contrast points: When designing a piece of art, any painter, sculptor, or musician will emphasize the need to have focal points. Using objects of contrast within background patterns creates more depth. From unique brick walls to stone platforms, the hardscape will gain more texture with these interesting features.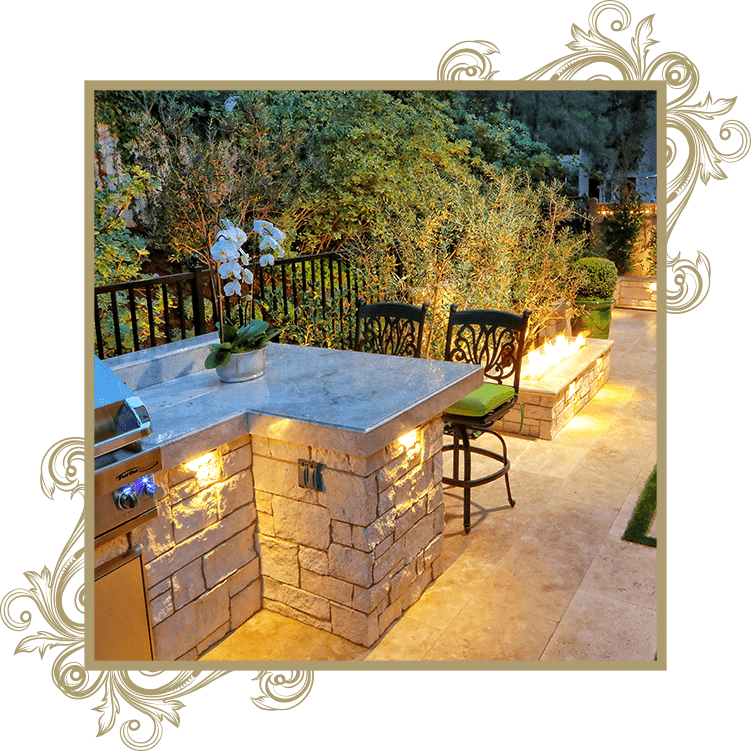 From Concept to Creation
Our Hardscape Design Projects
What Can You Add to Your Hardscape?
Although patios and paths are excellent, traditional hardscapes, our experts can add far more, pushing the boundaries of creativity and innovation. The sky is the limit when it comes to making amazing hardscape designs that are both functional and attractive.
Just a few examples of hardscaping options that our team can design and construct include:
Retaining walls: Looking to create implied barriers without completely obstructing the view? Retaining walls can be tailored to different heights and widths to accommodate any shape, making elegant terraces. Most important, they will stop soil and water from being washed out.
Pavers: These features were traditionally made of stone, but now can be made of travertine, marble, flagstone, brick, concrete, and more. They serve as excellent floors for driveways, paths, patios, and walkways.
Fire pits: From double-sided, terra cotta fireplaces to customized stone pits, we can build cozy places to bring family and friends together.
Our experts can provide helpful tips for making everything flow together. Consult with BSH Landscape to achieve true harmony in your backyard.
To take advantage of our experience, do not hesitate to reach us at (310) 340-7118 and ask about our outstanding hardscape design services in Beverly Hills.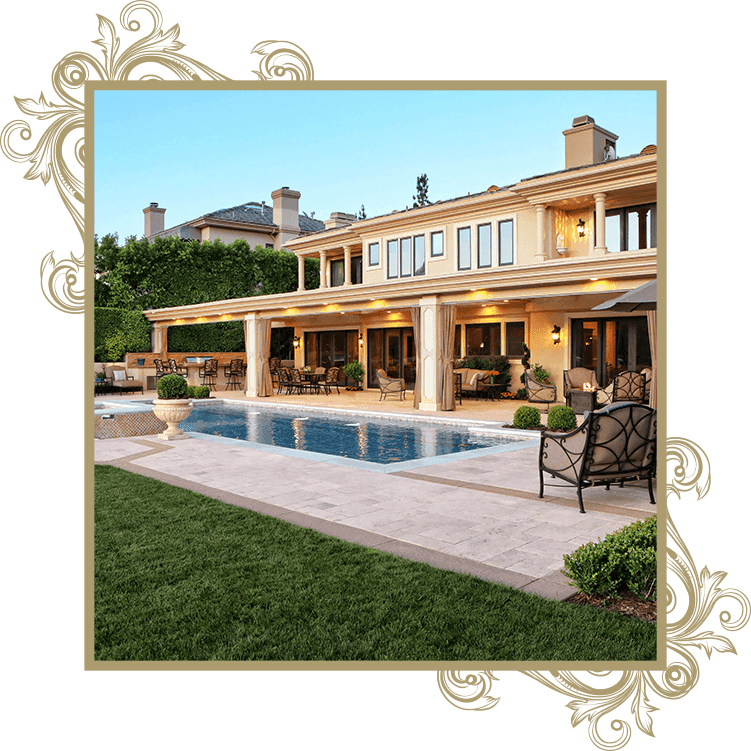 Trusted for a Reason
Why BSH Landscape & Hardscape Design?
Focused, Detail Oriented, and Skilled

Over 32 Years of Experience

Passionate About Design & Build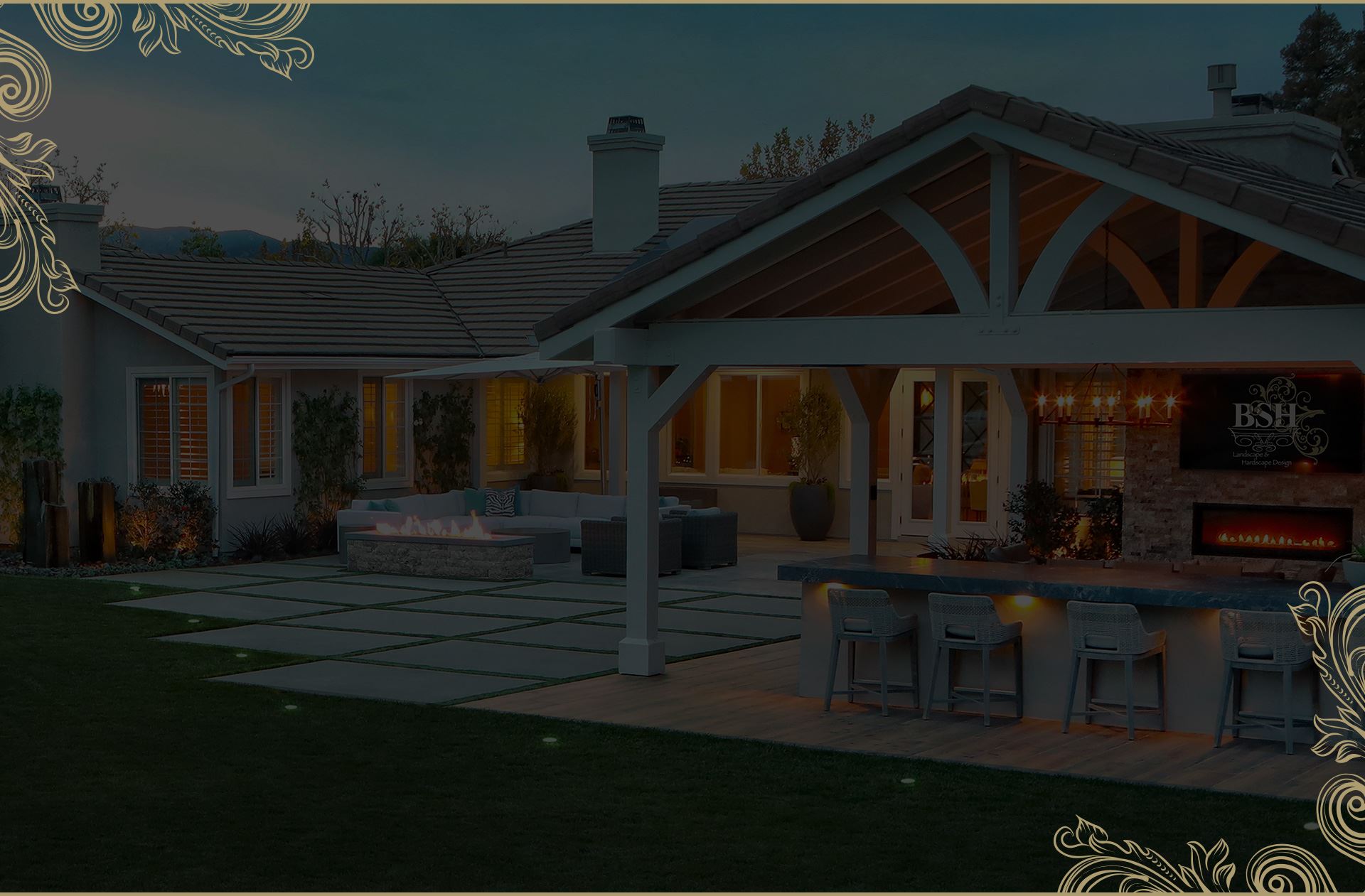 Our Design Process
We apply creativity to every step along the way. We take YOUR vision and ideas and combine them with our knowledge, expertise and artistry to create something truly unique.
Learn More
Areas We Serve
Calabasas

Beverly Hills

Hollywood

Newport Beach

Santa Clarita

Valencia

West Los Angeles

And More!